Engagement Ring vs Wedding Ring and Wedding Band: A Comparative Guide
Home /

Engagement Ring vs Wedding Ring and Wedding Band
Corona Update
Due to the current situation there are opportunities for those who are in the market for diamond jewelry. Whether through sales or prices that have been updated. Click on the link below to see more information.
James Allen
Blue Nile
Marriage is no doubt a meaningful life decision that demands a lot of discussion and planning. Almost equally important, though, is your choice of wedding jewelry.
The tradition of exchanging rings has existed for hundreds of years, and continues to be one of the most significant symbols of commitment in contemporary society. With so many options in terms of engagement rings, wedding bands and wedding rings, finding the right jewelry to represent your special bond can be as challenging as - well - finding the person you want to spend the rest of your life with.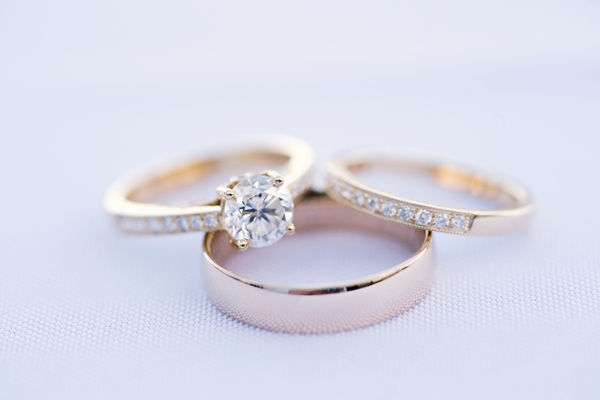 Engagement Ring vs Wedding Ring and Wedding Band
While figuring out which rings you should purchase, you're faced with a wide range of styles, stones and price tags. Do you need all three? And if so, do they need to match? Since you'll be wearing this jewelry 'till death do you part, you should be sure to choose styles that you'll love for a lifetime.
Follow this basic guide as you're shopping for the perfect pieces.
Engagement Ring vs Wedding Ring
There's a reason why women dream up their ideal engagement rings from a young age. These pieces are perhaps the most extravagant of all, often featuring ornate bands, a combination of white or colored diamonds and elaborate settings. Additionally, the engagement ring has a specific significance because it is typically presented at the moment of proposal. From the moment the woman in question says "yes," she'll be sporting this piece to signify her impending nuptials.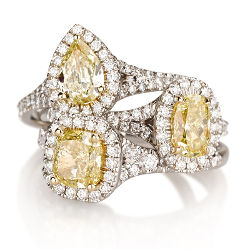 Yellow Diamond Engagement Rings
Wedding rings, on the other hand, tend to be less intricate, but still might feature pave diamonds or other precious stones. However, many brides may select a plain platinum or gold band if their engagement ring is on the flashier or more decorative side. A big differentiating factor is also the timing. While engagement rings are offered at the proposal or soon after, the the wedding rings are exchanged by bride and groom at the ceremony.
Wedding rings can be worn with the engagement ring, but should always be placed on the bottom of the same finger. The reason for this is that the wedding ring is considered the ultimate metaphor for eternal love, and should be closer to the wearer's heart. Due to this time-honored belief, the engagement ring is taken off temporarily during the ceremony so that the wedding ring can be situated below it.
In some cases, it makes sense to purchase a bridal set. This saves couples the struggle of trying to match the engagement ring and the wedding ring. Some wedding sets even include the groom's wedding ring as well, to ensure that the couple's jewelry is all perfectly coordinated. Integrated sets will fit flawlessly with each other, but one drawback is that the wedding band must be worn with the engagement ring as neither piece will look right if worn separately. Conversely, the wedding band and engagement ring can stand alone in a parallel set. Still, there are no rules for how well the two rings should blend or complement each other.
Wedding Band vs Wedding Ring
There isn't as noteworthy a difference between these two pieces. As more women began to wear wedding bands and they became more feminine, these items morphed into what is now known as the wedding ring. The contemporary wedding ring is slightly more stylized than the simple wedding band, which usually has a super simplistic design. It may include diamonds set all the way around it, or decorative metal work.
As a result of this, the wedding band is often far less costly than a wedding ring, and almost always less expensive than the engagement ring.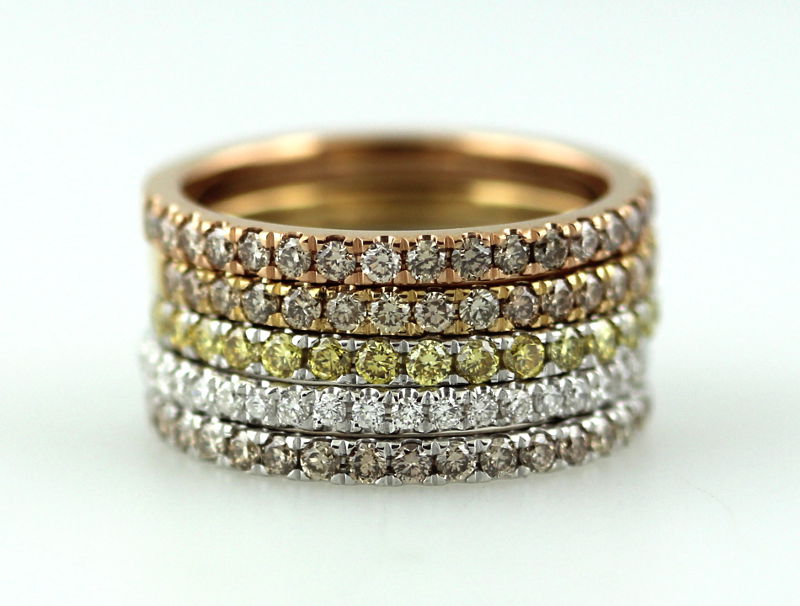 As with the wedding ring, the wedding band is exchanged in front of family and friends at the ceremony. Some couples may decide to purchase his and hers wedding bands in a set so that they coordinate style-wise.
Now that you've learned the differences, is the above picture of Diamond Engagement Rings or Wedding Rings?