Gray Diamonds Wiki
Most elegant and surprising diamond color - The Fancy Gray Diamond!
Home /

Gray Diamonds Wiki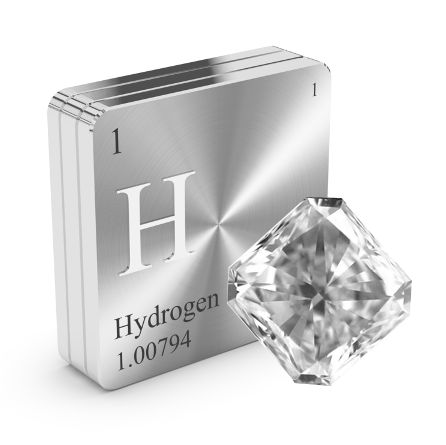 Among all colored diamonds, gray diamonds are relatively unknown - and that's a shame. There are several reasons that may explain it, but the first may just be its rarity.
Gray Diamonds are quite misleading - but in a good way. They are extremely rare. Far more rare than yellow diamonds and brown diamonds even though price wise they are located near them in the lower range of fancy colored diamonds prices - making them a very interesting buy. In fact, their pricing is so attractive that they can even be considered an alternative to white colorless diamonds simply based on the price.
On top of that, while all colored diamonds came to consciousness / awareness as alternative & fashionable solution only in recent years, the trend originated from the more familiar and stronger colors such as pink and yellow and only after evolved (and keeps evolving).
Below you can find a chart showing the relatively fast increase in awareness by Google Search Trends: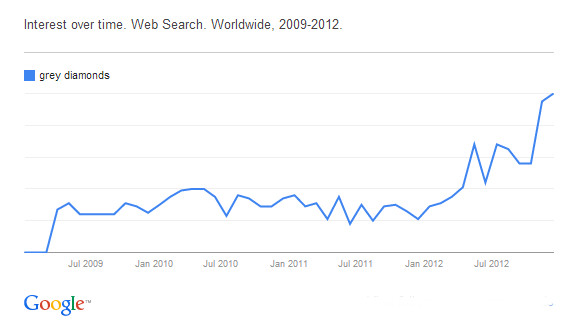 Interest in Gray Diamonds according to Google Trends
Gray diamond rings - spice up the classic engagement ring
When gazing upon a yellow diamond engagement ring, it would obviously be easy to note the color. In fact, you'll probably be able to tell it from across the room. And you won't be surprised that those who buy these types of rings are looking just for that.
But most gray diamond colors don't have that effect. Most gray diamonds have weaker color saturation. Imagine a colorless diamond with an elegant metallic bluish twist or ora.
These diamonds provide the additional chic and touch of personalization that is so missed in conventional engagement rings. And they are doing it without breaking the budget limitations.
There is another considerable advantage to gray diamonds that most colored diamonds simply do not possess (and those who do cost much more) - gray diamonds often come in round brilliant shape.
While this may sound trivial to most diamond seekers - after all the round diamond is the most sought after shape (especially for engagement rings). The fact is that colored diamonds are hardly ever cut into rounds. This is because that by mathematical definition the round diamond shape causes light go through the diamond (and bounce off it) in an optimal way that causes it to appear whiter - it simply does not sustain the color. Therefore most colored diamonds are cut into radiants and cushions.
If your heart still desires other shapes, then most likely you'd be able to find them also in oval, cushion cut, pear shape and radiant.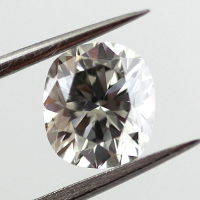 Cushion Modified Fancy Gray Diamond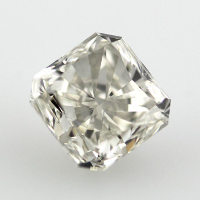 Radiant Cut Fancy Light Gray Diamond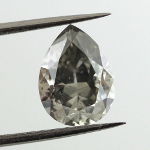 Pear Shaped Fancy Dark Gray Diamond
About the Gray Diamond Color
Most of the gray colored diamonds get their color due to high concentration of hydrogen and in rare occasion's boron like blue diamonds.
They come in the following intensity levels: Light Gray, Fancy Light Gray, Fancy Gray, Fancy Dark Gray, and Fancy Deep Gray (no such thing as vivid gray, faint gray etc.).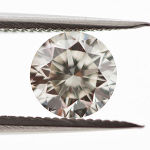 Fancy Light Gray Diamond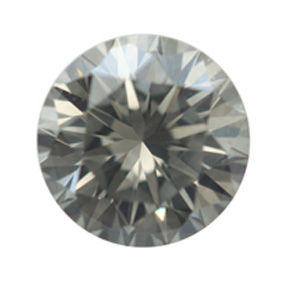 Fancy Gray Diamond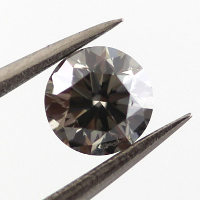 Fancy Dark Gray Diamond
And the common color modifiers according to the GIA are yellowish, greenish, bluish and violet. Meaning that the actual colors are as follows: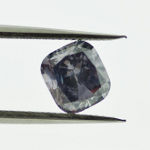 Fancy Dark Violet Gray Diamond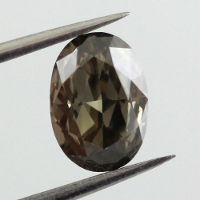 Fancy Dark Greenish Gray Diamond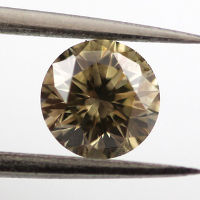 Fancy Greenish Yellow Gray Diamond
As can be seen from the pictures above, even in the tight niche of gray diamonds, there are practically endless options. To be more accurate, according to the literature, the human eye can distinguish up to 500 shades of gray and this is probably the number of gray diamond colors there are.
Important note about gray diamonds and their prices:
As mentioned gray diamonds are relatively affordable. However, when combined with blue or violet, which are extremely rare, the result is quite hefty and there prices can climb to the tens of thousands.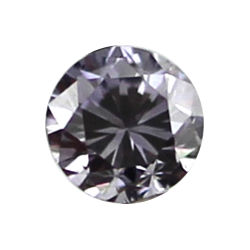 Fancy Grayish Violet
But this goes both ways…!
The gray color is often found as a modifier for violet and blue diamonds. This beautiful additional to a blue diamond (i.e gray blue and grayish blue diamonds) can dramatically reduce the blue diamond's price when compared to a pure blue.
This often opens the possibility for those searching for a blue diamond but cannot afford it.
The most famous gray diamonds are blue!
There are no notable gray diamonds simply because they barely exist. However, two of the most famous diamonds in the world are blue diamonds with a gray modifier (gray blue diamonds): the Hope Diamond and the Wittelsbach Diamond (until Graff re-polished it to a pure blue).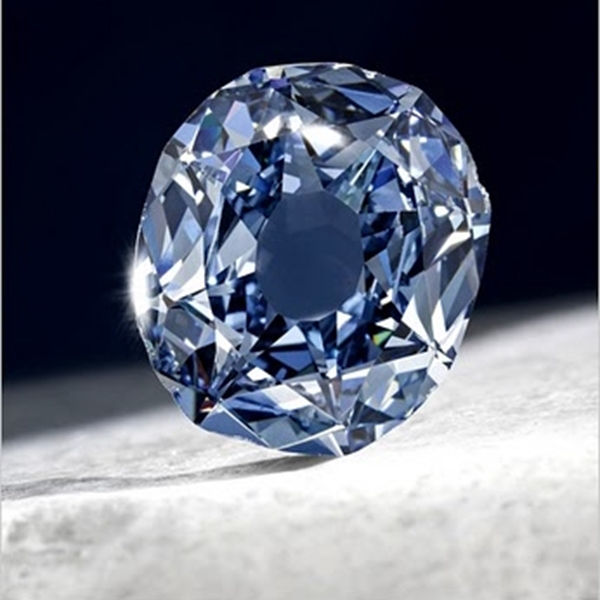 The Wittelsbach Diamond
Image via Christie's
There is a third diamond that is not as famous as the Hope and not as documented but still relates to the family of famous gray diamonds. It is a 35.27 carat diamond named the Sultan of Morocco. The diamond which was once owned by Cartier was sold back in 1972 to an unknown collector for the amount of $250,000 - which is an equivalent of $1.4 Million dollars in today's values - probably far less than the value it would sell for at the auctions!