The Blue Moon Diamond - The Most Expensive Diamond in the World!
Recent years have been good to owners of colored diamonds and it seems that in every auction held by Sotheby's and Christie's a record is broken.
Sometimes, the so called records belong to a niche – for example – world's most expensive pink diamond or largest diamond to be sold at the auctions, and it seems that records are meant to add prestige or value to the sold diamonds. But sometimes, a record is broken that is impossible to open for commentary & interpretation – The World Most Expensive Diamond – the single most important record of them all – and it was just broken!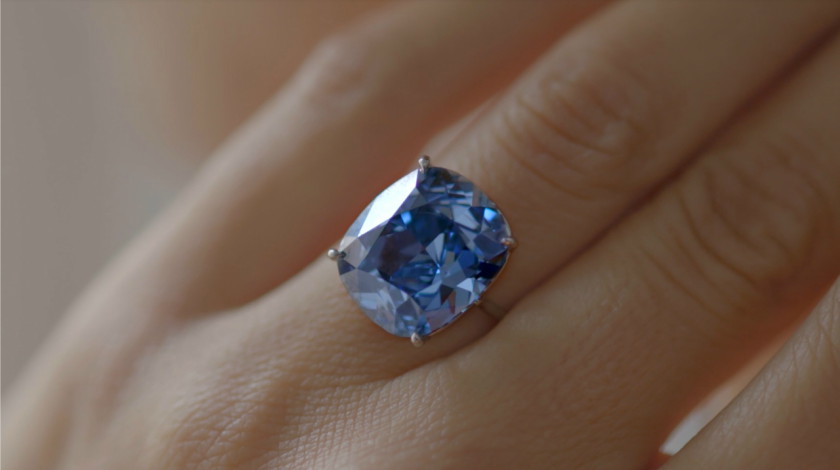 The Blue Moon Diamond&nbsp
Image: Sotheby's (video below)
Meet the Blue Moon – World's Most Expensive Diamond
While many of the world's most famous diamonds and most expensive diamonds have history dating back centuries and royal pedigrees, the exceptional blue moon diamond was discovered… less than two years ago.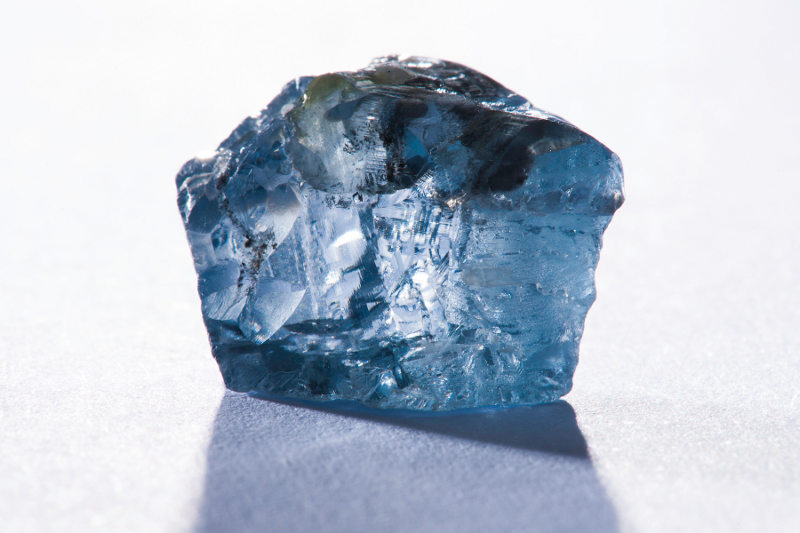 29.6 carat Rough Blue Diamond by Petra – Image courtesy of Petra Diamonds
It was during January 2014 that we reported that Petra Diamonds discovered a 29.6 carat rough blue diamond. It was mined in South Africa in the Cullinan mine (same mine that produced the one and only Cullinan Diamond) and it's exceptional color did not go unnoticed even in the rough. Upon its discovery, it received a price assessment of $15M-$20M which is astounding taking into consideration that diamonds can easily lose 60% during polishing which means that even then they estimated it would be worth somewhat above $35 Million when polished.
But assessments and theories are one thing and reality is another. In this case, reality is even better and on February 2014 Petra diamonds sold the mesmerizing blue diamond to Cora International for…. $25.6 Million dollars in the rough. An amount that only a handful of diamonds have achieved as polished.
6 months have passed and the diamond was far from being forgotten. After all, natural blue diamonds such as this don't come too often. And finally, during August 2014 Cora revealed its magnificent gem – an Internally Flawless 12.03 carat Fancy Vivid Blue Diamond – a truly perfect blue diamond – a combination of the highest color grading with the highest clarity. A diamond that is so rare that naming it after one of nature's phenomenon is a perfect fit – and The Blue Moon Diamond was born.
Going Once, Twice, SOLD for $48.5 Million Dollars – New world record
Another year has passed and during October Sotheby's announced that the one and only Blue Moon Diamond will be auctioned in their November Magnificent Jewels auction.
Diamonds such as this are priceless and since only a handful of people can afford to purchase them, the actual price is determined during the auction. As such, the price estimations for the Blue Moon varied between 34.2 Million Francs to 53.7 Million – and they were not far off. The Blue Moon Diamond eventually sold just above the average between the low and high estimations fetching Sotheby's (and Cora International) the astounding amount of $48.4 Million Dollars – that's more than $4 Million Dollars per carat!!!
The Blue Moon of Josephine - Meet the 7 years old owner of World's Most Expensive Diamond
But the purchaser of this magnificent gem did not buy it for himself. It was purchased by Hong Kong billionaire Joseph Lau. Lau that was convicted in March of 2014 in laundering money and since them resides in HK bought the diamond to his 7 years old daughter Josephine and as the proud owner also renamed the diamond after her – The Blue Moon of Josephine.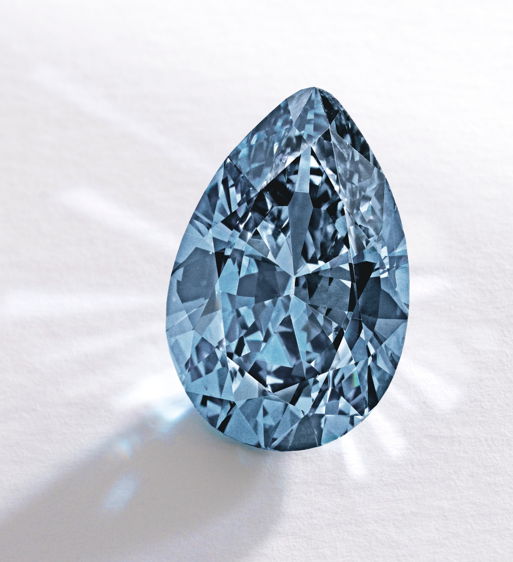 The Zoe Diamond – 9.75 carat Vivid Blue Diamond
Most Expensive Diamond per carat and Most Expensive Blue
image: Sotheby's
But Josephine's jewelry collection does not end here nor does Lau collection of gems. The night before he entitled the Blue Moon it's degree as the world's most expensive diamond he bought another extraordinary diamond – a 16.08 carat vivid pink diamond that was sold by Christie's Geneva. And for that one he paid $28.5 Million Dollars and renamed it "Sweet Josephine".
However, as a father of three, I know the importance of treating all my kids the same and it seems that Lau feels the same. Apparently, the previous most expensive diamond the ZOE diamond also belongs to Lau, or technically Lau's other daughter – can you guess her name… Zoe.
The Zoe diamond is also a fancy vivid blue diamond with a vvs2 clarity grading and weighing 9.75 carat. For that, Lau had paid $32,645,000 which comes to almost $3,350,000 per carat! (doesn't seem much now :) ).