Pink diamonds are inarguably some of the rarest finds around the world. Even rarer are those that exceed 5 carats, or feature a vivid saturation of color. For these reasons, the Graff Pink Diamond is more than just a stunning gem - it's a natural marvel that will no doubt be cherished for centuries to come.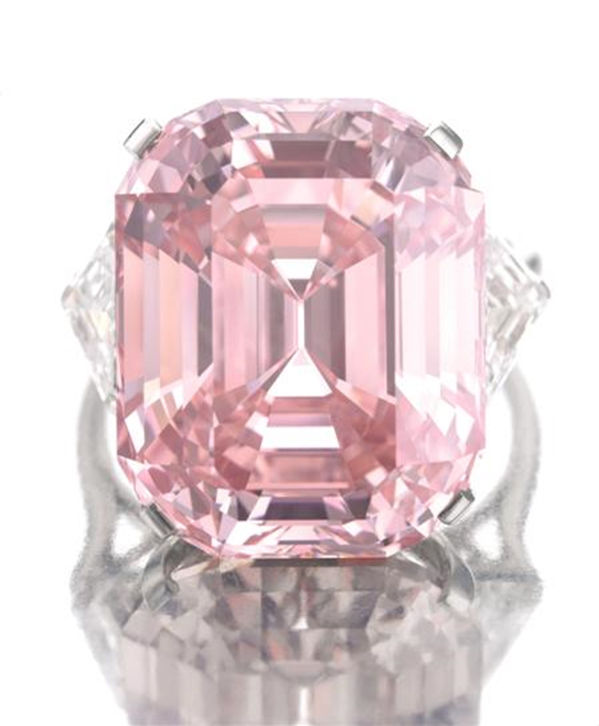 The Graff Pink Diamond
Image via Sotheby's
The first person to add this remarkable gem to their collection was Harry Winston, a world renowned York jeweler who has possessed a number of famous diamonds like the Briolette of India and the Hope Diamond. The diamond was kept in Winston's private collection for more than 60 years.
It wasn't just the captivating hue or sheer size of this diamond that made it such a remarkable find. The Gemological Institute of America graded the Graff Pink as a Type IIa Diamond - meaning it fell in the top 1 to 2 percent of diamonds in terms of purity, according to Diamondland. Adding to the diamond's jaw-dropping appeal is the fact that it was set in a platinum ring flanked by two stunning shield-shaped stones.
An Expert's Hands that Recognized its Value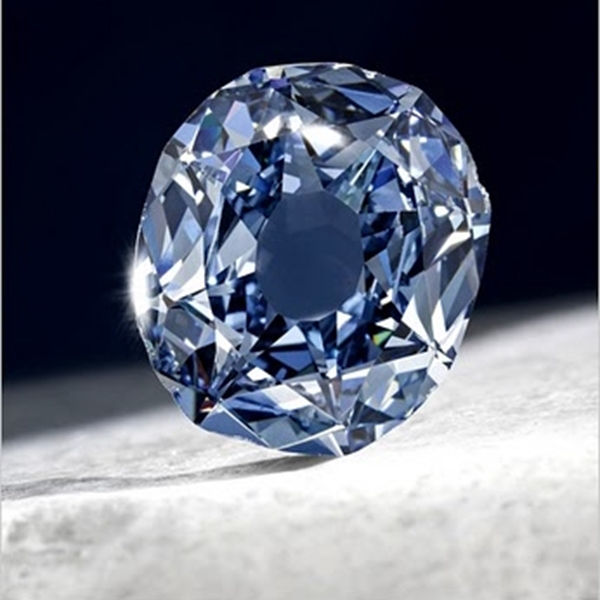 Wittelsbach Diamond
Image via Christie's
While it was certainly striking to begin with, one man saw its potential to be even more beautiful: Laurence Graff, a legendary diamond collector known as the "King of Bling." He already owned an impressive array of gems, which included the Wittelsbach-Graff diamond.
Graff purchased the 24.78-carat emerald-cut fancy intense pink diamond at a Switzerland auction in November 2010 for $46 million. At the time, that was the most amount of money ever spent on a diamond making it officially the most expensive diamond in the world.
I cannot exaggerate just how rare this stone is. This sale is one of the most exciting of my 35-year career. It is one of the most desirable diamonds ever to come to auction, and its beauty has haunted me since the very first time I set eyes on it some years ago."
Director of the international jewelry department at Sotheby's David Bennett said following the auction, according to the Daily Mail.
Bennett also noted that what makes the pink diamond so rare is the exceptional color and purity combined with the emerald cut.
"It's a style of cutting normally associated with white diamonds and one that is so highly sought-after when found in rare colors such as pink and blue," he explained, according to the Israeli Diamond Institute.

Seeing is believing, Watch the live auction:
Taking Risks for Big Rewards - Achieving Perfection
When Graff decided to bid on the gem, he had plans to make it even more gorgeous than before. The diamond was, after all, graded as potentially flawless - it needed a little repolishing to reach perfection. In fact, according to Graff Diamonds, the stone had 25 natural flaws. Using cutting-edge technology, the company's experts were able to eliminate those defects while keeping the diamond's shape and symmetry intact.
"The risks involved were enormous," states the Graff Diamonds website. "One wrong move and the diamond could shatter, sending fragments of the world's most valuable pink diamond scattering across the workshop floor."
Getting rid of these blemishes wasn't Laurence Graff's only objective, either. He also sought to increase the color intensity of the diamond - a lofty goal that would pose numerous challenges. Only several cutters are capable of such a feat, and as the Graff Diamonds website explained, these professionals closely protect their secret tactics.
It took weeks of meticulous work to furbish the diamond, but when it emerged from this painstaking process, the Graff Pink Diamond was even more awe-inspiring than before. It was sent to the GIA for analysis, and the institute graded the Graff Pink as a 23.88 carat Internally Flawless Vivid Pink Diamond. Better yet, less than 1 carat had been lost in the process - a difference in weight that was well worth it to achieve an uncommon level of perfection.
The lesson learned? Sometimes it's worth making a sacrifice for the sake of greater beauty - especially in regard to colored diamonds. BUT...
How much is the Graff Pink Diamond worth?
That is an extremely interesting question that only time will tell once it reaches an auction house again.
Graff Pink Diamond's Value
| | Then | Now |
| --- | --- | --- |
| Weight | 24.78 carat | 23.88 carat |
| Clarity | Potentially Flawless | Internally Flawless |
| Color | Intense Pink | Vivid Pink |
| Price | $46,000,000 | $XX,XXX,XXX |
Considering that Graff, one of the world's biggest experts, paid for it $46 Million back in 2010. And since then improved its color and clarity, basically perfecting a near perfect diamond. And considering that since then prices of pink diamonds have steadily increased getting auction records broken and broken again and again – the current value is $XX,XXX,XXX – your guess is as good as ours!