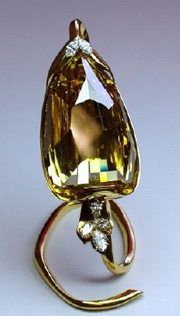 The Incomparable Diamond belongs to the family of magnificent and rare yellow diamonds.
It was originally found in 1984 in the Democratic Republic of Congo (what was known as Zaire) in Mbuji Mayi, a small unknown town.

It has earned many titles due its weight. When it was found, the rough diamond was weighed 890 carat (about 178 gr). It is the fourth largest rough diamond and the largest brown diamond that was ever found.

Hard to believe that this magnificent oversized diamond was found by a little girl while playing in the wastes of the nearby MIBA Diamond Mine which was adjacent to her uncle's house. It seems that it was in a rubble pile that was sorted out because it was considered to be too bulky to posses any diamonds…
The Incomparable Diamond Cutting Process
The cutting of the Incomparable was done by an entire team lead by Marvin Samuels was owned the diamond together with Donald Zale of "Zales Jewllers" and Louis Glick who bought it from De-Beers.
It took them several years of analyzing it before deciding what to do with it. Should it be cut into the world's largest diamond (even bigger than the Cullinan Diamond) or should they settle for the size and have a high clarity diamond by cutting out the imperfections.
At the end it was decided to cut the incomparable into one main big diamond with high clarity and additional 14 smaller diamonds. The final weight of the main diamond is 407.78 carat (81.5 gr) and is still referred to as the incomparable diamond. The incomparable diamond was graded by the GIA as Shield Step Cut (trilliant), Fancy Deep Brownish Yellow Diamond, Internally Flawless. Interestingly, the other 14 polished diamonds that were cut are in a range of colors – from almost colorless diamonds to yellow brown diamonds.
The unbelievable weight of the polished Incomparable diamond has earned many titles for being the third largest diamond in the world (polished diamond) and the largest Internally Flawless diamond.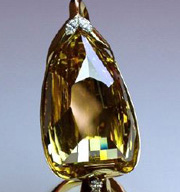 The Incomparable Price Tag
In 1988 the diamond was auctioned. The reserved price for it was $20 million however the highest bid was $12 million and it was not sold. It is important to know that these $12 million was the highest price that was ever offered for a single diamond.
Rumor has it that during the early 2000's the incomparable was displayed on eBay with an opening price of $15,000,000 however once again it was not sold. Till now the whereabouts of this unique one of a kind yellow diamond remains unknown.