2 Carat Diamond Rings -
How Much to Pay? Where & What to Buy? (and what NOT!)?
Home /

2 Carat Diamond Rings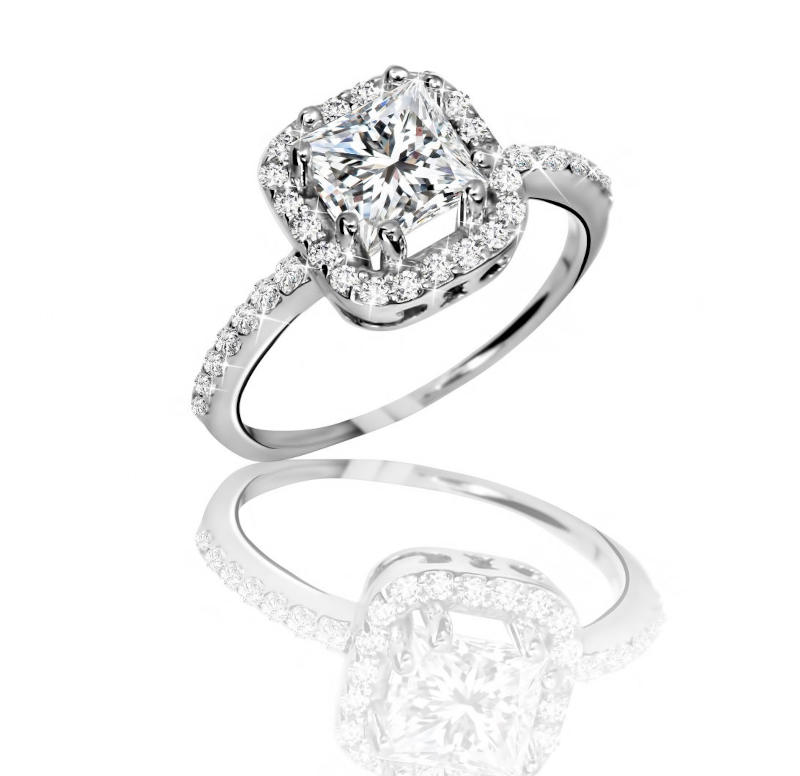 2 carat diamond rings are truly setting the standard high. They are amazing and definitely make an impact. I never heard of anyone not wanting a two carat diamond…
The only problem with a two carat diamond ring is that it's price ranges from roughly $6,000 to $60,000! And in other words, a 2 carat diamond ring costs anywhere from a small car to a small house!
That's an astounding difference in costs that can, will and should confuse anyone. So… after answering TONS of customers questions, I've decided to do my best to create a guide that will give you EVERYTHING you need to find the perfect ring (or engagement ring) for your needs.
All I'm asking is 7 minutes reading or watch a 6 minute video (and to share if you liked it 😊).
---
How This guide is Set Up?
Since all who are here have one thing in common and it is to find the best 2 carat diamond ring, I've decided to divide this guide as follows:
---
2 Carat Diamond Price Calculator
We explain and discuss the pricing methodologies of 2 carat diamonds in great details down the article. However, from my personal experience speaking and corresponding with endless amount of customers – everybody wants to start with the price. So for that purpose, we moved the 2 carat diamond price calculator to the beginning of the article. Please do read the information provided afterwards to learn more on how you can save lots of money as well as what NOT TO BUY.
What is a 2 Carat Diamond?
Diamond's weight is measured in carats. A diamond carat is one fifth of a gram (5 grams are equal to 1 carat). When speaking of 2 carat diamonds, usually we speak of diamonds weighing from roughly 2.00 to 2.20.
I would like to repeat and emphasize something because it is important to understand – a carat is a weight unit, not a size. True, there is a strong correlation between the two, but it's not a must. Just like you can encounter a 120lbs man that would look bigger than a 130lbs man, you can find a 1.90 carat diamond that would appear bigger than a 2 carat diamond.
But, if the diamond is cut "by the book" to the ideal cut of its shape, then yes. A bigger carat weight would also be interpreted to a bigger diamond.
Here are the sizes mm of 2 carat diamonds in the different shapes:
How Big is a 2 Carat Diamond?
| Diamond Shape | 2 carat Diamonds Sizes (MM) |
| --- | --- |
| Round | 8.20mm |
| Princess Cut | 7.50mm |
| Cushion | 7.60mm |
| Oval | 9.0x7.0mm |
| Pear Shape | 10.0x6.7mm |
| Emerald | 8.7x5.8mm |
| Radiant | 8.3x6.2mm |
| Heart | 8.0mm |
For better understanding of what it actually means, you can easily compare the size of a 2 carat diamond against any other carat weight up to 5 carats using the tool below:
Here is a great demonstration of the popular size comparisons of 2 carats using the GIA's tool above: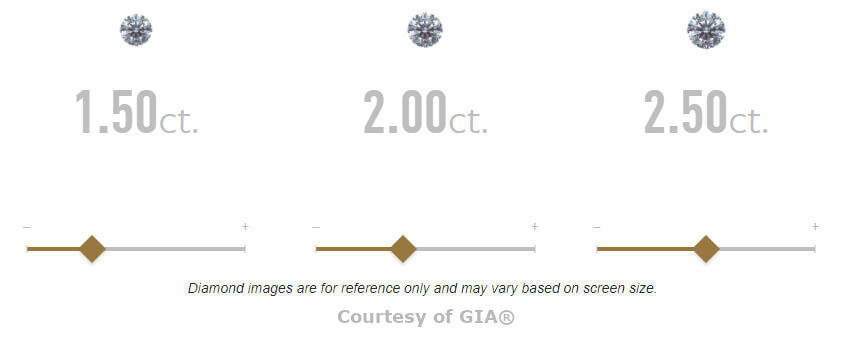 ---
What is a 2 Carat Diamond Ring?
I will separate the above into two with a small though huge difference:
What is a 2 Carat Diamond Ring?
What is a 2 Carat Diamonds Ring?
This small "s" at the end of the diamond is worth a lot of $$$
A 2 carat diamond ring is a ring where the center stone is a 2 carat diamond as we explained above. A 2 carat diamonds ring is a ring where the total carat weight is 2 carats and that's a whole different story.
In case you didn't get a chance to read our guide to how diamonds are priced, I'll explain – Diamonds are priced per carat. There is a value per carat that is based on the quality of that diamond and to learn the cost of the diamond you need to multiply it by the carat weight.
For example if you have a 2.2 carat oval diamond with G color and VS1 clarity that is valued at $10,000 per carat - the total cost of the diamond is $10,000 * 2.2 = $22,000.
What dictates the cost per carat of the diamond is it's attributes. Things like its color grading, clarity, shape, fluorescence and more. But also its carat weight. Since bigger jewelry quality diamonds are far harder to find than smaller ones, the price per carat of two diamonds that are perfectly the same aside for their weight can be extremely different. How different? In multiplies…
This is why the price per carat of diamonds goes up exponentially (rather than linearly) as weight goes up. And in plain words: The combined price of two 1 carat diamonds would cost much less than the price of one 2 carat diamond of the same quality.
Now rolling back the issue of a 2 carat diamonds ring (in plural): The above explanation all leads to the following - A "plain" solitaire diamond ring with a 2 carat center stone would cost more (sometimes MUCH more) than a "fancy" looking halo ring with a center diamond weighing 1.50 carat and additional 0.50 carat of small surrounding diamonds.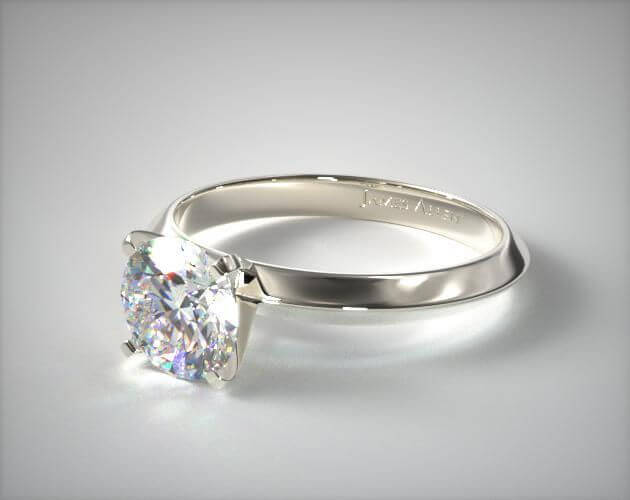 2 Carat Solitaire Diamond Ring
Center: 2 carat G VS2 diamond
Total Ring Price is $20,000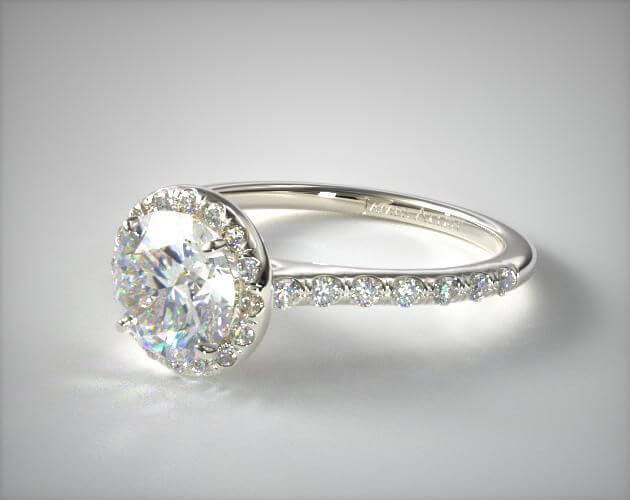 2 Carat t.w Pave Diamonds Ring
Center: 1.80 carat G VS2 diamond
Total Ring Price is $17,500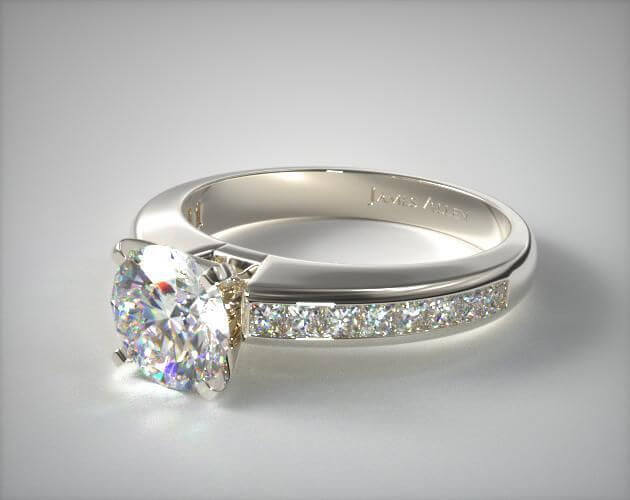 2 Carat t.w Channel Set Diamonds Ring
Center: 1.50 carat G VS2 diamond
Total Ring Price is $12,500
That's a huge difference.
* Tip: When a dealer states on a ring has a total carat weight of 2 carats it usually means with the small diamonds. Total weight can be marked for shortage in any of the following ways: t.w, ctw, tcw.
2 Carat Diamond Ring Price
The next step is to understand how much you should spend on a 2 carat diamond ring.
There are usually three ways to how people are starting their search for an engagement ring (also works with fashion rings):
Start with a budget


Diamonds rings come in all shapes, sizes and price levels. They range from under $1,000 to … well… many millions (see our article on the most expensive diamonds in the world). It is very easy to lose proportions and that's why starting with a clear budget is my favorite way and personal recommendation.

Start with a design


You know your loved one has a vision of a certain ring and you want to make her dream come true (or you want to treat yourself). Some designs have limitations on the diamonds that go with them.

Start with a carat weight


You looked at rings, saw what a 1 carat looks like, what a 2 carat looks like and came to a conclusion 2 carat diamond is the right size for you.
No matter the reason you want a two carat diamond ring, the options are almost endless. Prices of 2 carat diamond rings range from 8,000 to 70,000. This is excluding extraordinary rings on both ends (of which I'll expand in further details at the end). Where are you on the scale? How much should you spend? Here are a few examples of what you'll get for 10k, 15k and 20k:
---
$10,000 - 2 Carat Diamond Rings
---
$15,000 - 2 Carat Diamond Rings
---
$20,000 - 2 Carat Diamond Rings
---
There is no right or wrong for this question but here is the data… Excluding rare occasions, prices of diamond rings with a center diamond larger than half a carat are mainly comprised by the cost of the center diamond. And as the size of the diamond goes up, the more impact the diamond has on the price of the ring. With 2 carat diamonds, you can say that the diamond makes around 90% of the cost of the ring.
So to answer the above, we'll start with the diamond:
---
How Much Is a 2 Carat Diamond?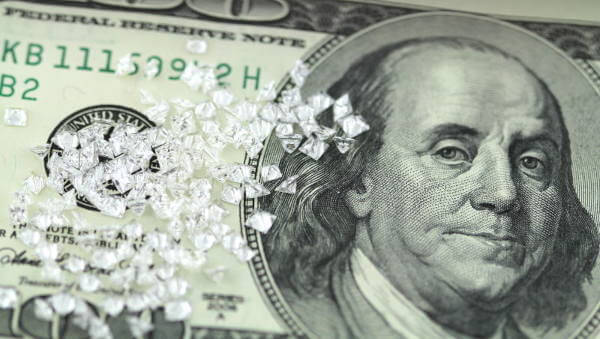 The price range of a GIA certified round 2 carat diamond is from $6,000 to $60,000. At the lower end, the starting cost of a round GIA certified 2 carat diamond with M color and si2 clarity is $6,000-$8,000. On the higher end, round GIA certified 2 carat diamond with D color and IF clarity costs $45,000-$50,000 and beyond.
As you can see below, the differences are quite significant. But are they really worth spending an extra $50,000?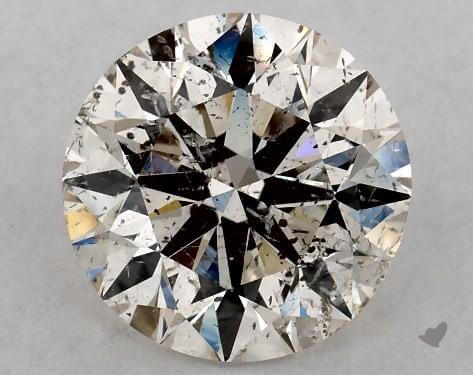 GIA 2 carat diamond, K SI2 worth $5,830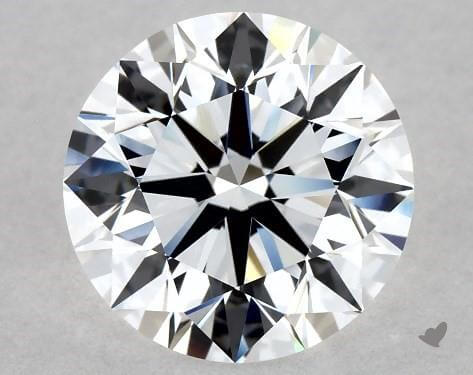 GIA 2 carat diamond, D Flawless worth $56,480
So, maybe instead of asking how much does a 2 carat diamond cost? You should really be asking how much is a 2 carat diamond worth for me?
I personally don't recommend being on either edge of the scale. The M SI2 diamonds are basically the lowest jewelry grade diamonds you can get and in the case of D IF diamonds you paying a lot of money on things no one, including yourself, would know the difference.
Here is a price table of actual prices of loose 2 carat diamonds:
2 carat Diamond Price Table
| | IF | VVS1 | VVS2 | VS1 | VS2 | SI1 | SI2 |
| --- | --- | --- | --- | --- | --- | --- | --- |
| D | $67,500 | $57,500 | $48,000 | $41,500 | $32,500 | $25,500 | $21,000 |
| E | $50,000 | $48,000 | $41,000 | $35,000 | $29,500 | $25,000 | $21,000 |
| F | $47,500 | $41,000 | $37,500 | $31,500 | $28,000 | $22,500 | $18,000 |
| G | $40,000 | $33,500 | $29,500 | $26,500 | $25,000 | $21,000 | $16,000 |
| H | $32,000 | $28,000 | $26,000 | $23,500 | $22,000 | $18,000 | $15,500 |
| I | $28,000 | $21,000 | $20,000 | $18,500 | $17,500 | $15,500 | $13,500 |
I marked my personal recommendations for every budget ranging from $15,000 to $30,000 which is where the best value for money 2 carat diamonds are.
These diamonds range from G color to I color (only if you are mounting in yellow / rose gold) and form VVS2 clarity to SI1. Generally speaking, a G color with SI1 clarity is usually the best value for money diamond. And here, for example, are a couple of beautiful 2 carat diamonds that would bring you great value for money: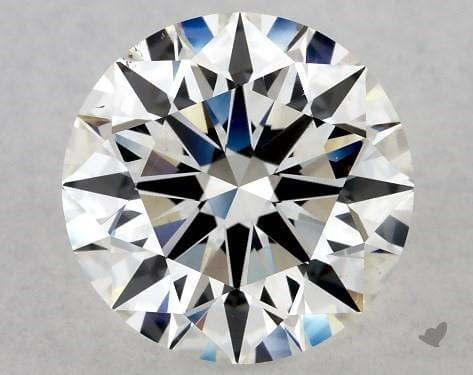 2 carat diamond, G VS2 worth $17,680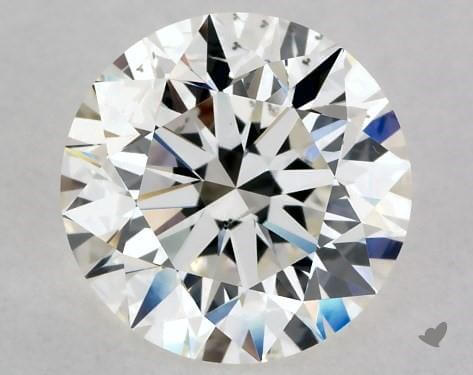 Round 2 carat diamond, F SI1 worth $13,890
Now that we've settled on that, let's roll back to the prices of rings and settings…
Unless you go with a crazy design prices of the setting itself ranges from around $250-$1,000 to various solitaire rings and up to roughly $1,000 - $2,000 to settings with diamonds such as halo rings.
The causes for the tolerance in pricing are usually the metal (i.e. if the ring is made with platinum or gold and how many karats) and in case the setting includes diamonds then the weight of the melee diamonds (the small diamonds), their quantity, and their quality.
Note that the above prices refer to unnamed designers. Meaning rings made by companies such as the online retailer JamesAllen.com or your local jewelry store. If you decide to go with a branded designer, prices go up by 2-3 times.
For proportions, a 2 carat diamond ring by Tiffany costs about $60,000 - depending on the exact center diamond and setting.

I LOVE Tiffany's designs and you have take a look on their engagement rings section - it's a delight...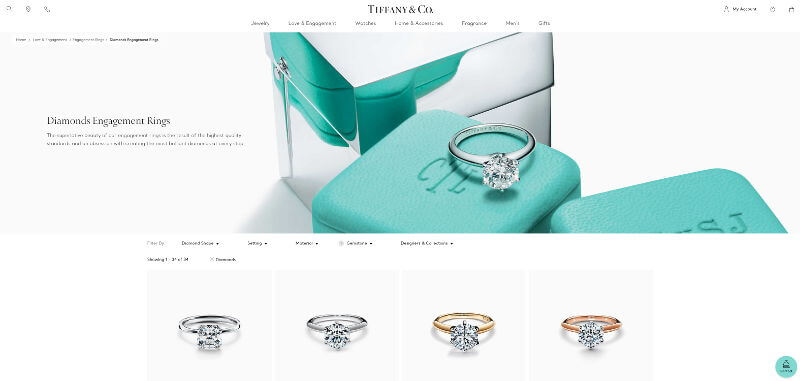 Tiffany 2 Carat Engagement Rings - Tiffany.com
How Does Shape Affects the Price of 2 Carat Diamonds?
The price table above shows you the prices of round brilliant diamonds as their sales make more than all other shapes combined. With that said, there are gorgeous designs made with other diamond shapes and a big advantage – they are way cheaper…
Pear shaped and oval 2 carat diamonds cost roughly 10-15% less than an equivalent round diamond. Cushion cut, princess cut and emerald cut 2 carat diamonds can cost as 30% less than the equivalent round brilliants.
* above diamonds are from James Allen's website
The meaning is that while an average good quality round brilliant 2 carat solitaire diamond ring would cost $20,000 - thinking outside the (round) box will get you a beautiful 2 carat princess cut ring for less than $15,000!
RECOMMENDED READING: Definitive Guide to 2 Carat Solitaire Diamond Rings
How Much is a 2 Carat Diamond Ring?
So, while it is not the end, if we'll try to summarize what we have until now to figure how much is a 2 carat diamond ring the answer is anywhere from $6,000-$60,000 (diamond and ring included).
We can also say that the average price of a 2 carat diamond is about $33,000 while the average cost of a 2 carat diamond that is purchased is about $18,000 (based on our experience). This in turn makes the average cost of a 2 carat engagement ring at close to $20,000.
And for those who are even more creative, here are few options to save even more on 2 carat diamond rings:
Affordable 2 Carat Diamond Rings
There are many reasons why I hate the phrasing cheap rings… Aside for the fact that cheap is a relative term (and so is affordable) – cheap makes it feel sleazy in a way. And there is no reason to go that route… if you are willing to step outside the comfort zone of what everybody else is buying - there are plenty of options to save, even more than the 30% I showed you with the princess cut diamonds…
Here are a few untapped opportunities:
Settle on Diamond's quality -
Not my favorite solution but of course you can reduce the "quality" of certain attributes and the price will decline. I did recommend the 4 C's I think you should go for, but there are more options. An example - buy diamonds with fluorescence - the discount can be 5-15%. My recommendation - in a two carat diamond it's not where I would save…
Get Below Two Carats - Instead of buying a 2 carat diamond, buy a 1.90 carat diamond. Even though you "dropped" the weight by 5%, you can expect a cost drop of 10-15%
Natural Fancy Colored Diamonds -
Not many know but diamonds come in all shapes, sizes and colors. There are natural diamonds that come in colors such as pink, brown, yellow and more. Most of the colored diamonds are more expensive than colorless ones. BUT, brown diamonds, black diamonds and even yellow diamonds are cheaper than colorless diamonds.
Lab Grown Diamonds -
This article is not the place to debate whether lab grown diamonds are really diamonds or not. But they are a growing trend that cannot be ignored. As with all technology items – prices of lab grown diamonds are constantly declining. At the beginning their price was about 30% below the equivalent natural diamonds. But now, they are about 30-50% below.
2 Carat Diamond Engagement Rings - Get Inspired
Now that you've learned all there is to learn about two carat rings, it's time to look at as many rings as possible. Here are a few of the most popular designs selling today according to JamesAllen.com: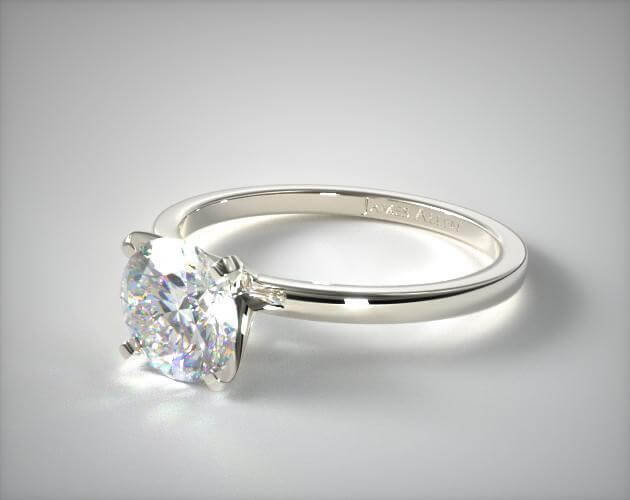 18K White Gold 1.5MM Comfort Fit Engagement Ring ($500)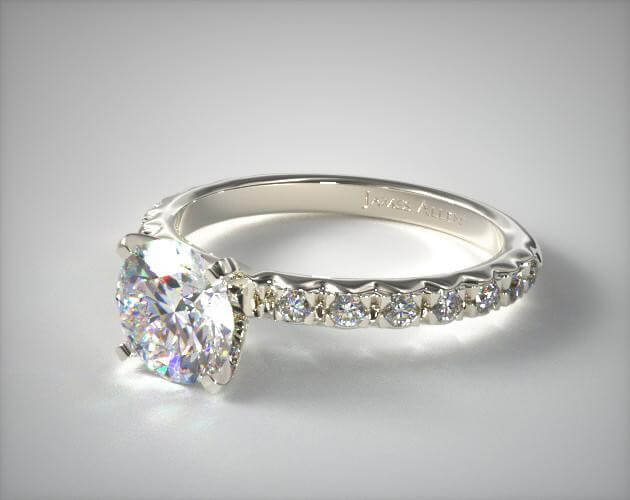 18K White Gold 0.32ct French Cut Pave Diamond Engagement Ring ($1,000)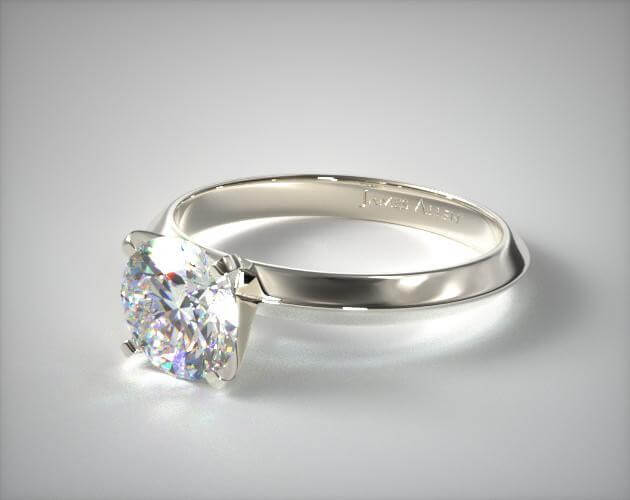 18K White Gold 2mm Knife Edge Solitaire Engagement Ring ($510)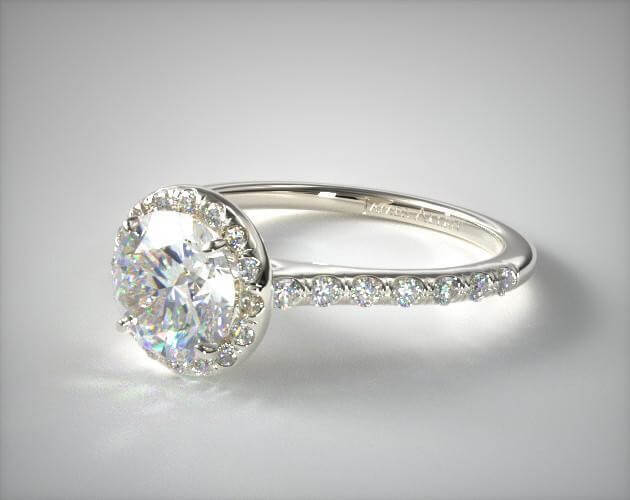 18K White Gold Pave Halo and Shank Diamond Engagement Ring ($1,200)
18K White Gold Pave Halo Twisted Shank Engagement Ring ($1,400)
Where to Buy the Best 2 Carat Engagement Rings?
Let's start by figuring what is the best ring…? I'll divide this into two:
Good quality
Priced well
I'm not a believer in free gifts and I believe it is obvious to most that the two are interconnected. You cannot give a great product at a low price… or can you?
It's true that in most cases brands are obligated to their brand name and therefore when you buy from a brand you know that there is someone behind it and that they are liable to their quality. There is a feeling that it is a safer purchase. In most times its true but it's not the only way.
A while ago I wrote an article about chocolate diamond® rings where I explained what are chocolate diamonds®, and also tried to explain the logic why they are more expensive than brown diamonds (whether you approve of it or not).
Interestingly, I also showed there that retailers like Tiffany often work with gross margins of 50% or higher. It's these margins that pay for certain benefits as stores and certain quality assurance measurements.
BUT, when you are buying a 2 carat diamond ring, you are buying (mainly) a 2 carat diamond plus a ring. Since I recommend ONLY buying from a trusted retailer and with a GIA certificate (assuming you understand what's written in it) then you do know what you are getting, no matter if you buy online or if you buy at the jewelry store at the corner of the street. So why pay premium for something that you know exactly what it is…? Would you pay 25% more on a specific Samsung TV in one store more than you'd be willing to pay on another?
So the answer in my opinion is buying online. Simply because I have not seen anyone that can compete with online retailers:
Tens of thousands of certified diamonds to choose from
Today, almost always photographed in extremely high definition showing off the inclusions
Hundreds of settings to choose from
Work on small margins
Extremely pro consumer return policy – satisfaction guaranteed.
Two biggest online retailers are James Allen and Blue Nile. I recommend starting you search there…