2 Carat Solitaire Diamond Rings
The definitive guide to crafting the most beautiful 2 carat solitaire engagement ring!
Home /

2 Carat Solitaire Diamond Rings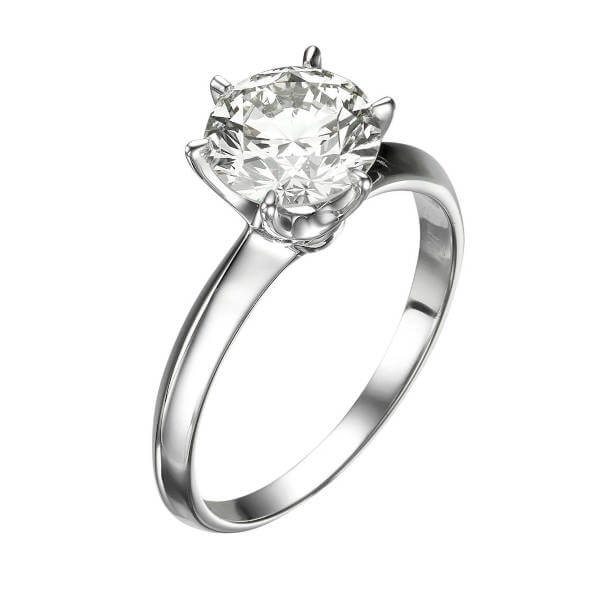 A 2 carat diamond is without a better word "WOW". And a solitaire diamond ring is a classic. So what can go wrong with a 2 carat solitaire diamond ring? Plenty! But it doesn't really have to be so complicated, there are just a few things that are important to understand or learn before buying such a ring.
In this article, I'll try to explain the basics of 2 carat diamonds, show you the various designs of solitaire rings that are suited for 2 carat diamonds. I'll also discuss prices and share a couple of buying tips that would save you a lot of money. At the end, if you still have questions – please do not hesitate contacting me because this article was built thanks to your questions – so thank you for taking the time to read it and if you like it – please share it 😊
What Is a 2 Carat Solitaire Diamond Ring?
Probably sounds like the most trivial question that can be asked but it is worth addressing.
So a two carat solitaire diamond ring is comprised from a 2 carat diamond and a solitaire ring.
The definition of a solitaire ring as described by the GIA is:
A diamond solitaire refers to any piece of jewelry with a single diamond. Diamond solitaires can be a ring, necklace, earring or even men's jewelry. They have come to mark some of the most significant occasions in one's life, like sweet-sixteen, anniversaries, and the most notable, an engagement proposal.
Note that I've marked the "single diamond". This means that out of the below three diamond engagement rings, only one is by definition a solitaire diamond ring.
The above definition of a solitaire makes it a lot easier for 2 carat ring shoppers. We address this issue a lot in our guide to finding the perfect 2 carat diamond ring, but the halo above is actually made with a 1.8 carat diamond and another 0.20 carat melee diamonds so all in all the cttw (carat total weight) is 2 carats yet the center diamond is far cheaper because it is "only" 1.80 carat and not a whole 2 (or more) carats.
See the below engagement rings from James Allen that take it to extreme:
Now let's address the second part, the two carat diamond. Diamonds carat weight is measured with two decimal points. So a 2 carat diamond is in theory 2.00 carats. However, unless there is a really special reason for you to stick to a perfect 2 carat diamond - don't!
And here is why… if you go to what I believe are the two biggest B2C diamond sellers of 2 carat diamonds - JamesAllen.com and BlueNile.com you'll note that JA would feature 237 round 2.00 carat diamonds and that BN features 163 round 2 carat diamonds (at least in what I call an engagement ring grade diamond). Pricewise, JA's cheapest is $11,860 and BN is at $11,780 to the time of writing these lines.
However, as interesting as may be, if I extend the search to include diamonds weighing up to 2.10 carats, JA would show an amazing list of 1,450 two carat diamonds and BN would show a list of 1,071 diamonds. Now, the cheapest diamond at JA is actually a 2.01 carat diamond that costs $11,170 (vs the 2.00 at $11,860).
And if I'll examine now the cheapest ten 2 carat diamonds in each of the above stores, then out of the top 10, JA has only one diamond that is a round 2.00 carat diamond and BN has four. Don't limit yourself!
Search JamesAllen Search BlueNile
Buying Tip
Don't limit yourself to buying a perfect 2 carat diamond. In many occasions a 2.01 or even 2.05 will cost less than a 2.00 carat diamond even though they weigh more.
You can learn more in our guide to how much is a diamond worth
Which Diamond is the Best for a 2 Carat Solitaire Ring?
Not all diamonds are made the same and not all diamonds are suited for a 2 carat solitaire ring. The reasons are:
Solitaire design cannot hide certain imperfections that other designs may hide
Due to its size, certain flaws in a 2 carat diamond are more visible than for example in a 1 carat diamond.
My recommendation is to first and foremost set a budget.
Consider that prices for loose round 2 carat diamonds range from roughly from $6,000 to $60,000 – starting with a budget is super important in order not to get carried away.
Also, when it comes to solitaire designs, the price of the setting is negligible. Probably around 90%-95% of your ring's total cost would be comprised from the diamond itself.
Once a budget is set, I suggest to go within the following guidelines based on the 4 C's of diamonds:
Diamond Carat
As mentioned above, don't go for round 2 carats. Consider widening up to 2.10 and if you really want to save, consider going below to 1.90…
Diamond Cut
Cut makes the sparkle and brilliance of the diamond. No one wants a big diamond that doesn't sparkle. Go for very good and above
Diamond Color
G color diamond is considered the best value for money diamond. If you have budget limitations you can go down to H. If you are using yellow gold for the setting, then the yellowish tint is easier to disguise so H is less of a problem and some state even I would work well (I don't love the idea but you really need to look at the diamond – there are some beautiful I color diamonds out there).
Diamond Clarity
SI1 diamonds are considered the best value for money. My personal suggestion is to make sure you have an eye clean diamond. A diamond where the inclusions are invisible to the naked eye (with no magnifying loupe). Another tip is that once you know the design, some designs can hide certain imperfections.
Diamond shapes are not part of the four C's even though often mistaken with diamond cuts. You can and should choose the shape that goes best with your dream ring design. Do note that round diamonds cost more than other shapes…
Designs of 2 Carat Solitaire Diamond Rings
People often ask which is the best setting for a 2 carat solitaire diamond ring, the unfortunate answer is that there is no best, it is a matter of taste. And unless you opt for a super special designer ring, most chances is that you'll find a setting from $200-$1,500 in 14k-18k gold or $600-$2,000 if you opt for platinum.
So here are the options, do note that there is a one "warning" when it comes to a 2 carat solitaire:
Please note and make sure that if you did buy an si1 or si2 2 carat diamond that has an inclusion around the girdle (on the side), that the setter hides it under the prongs as much as possible. Also, as for the small warning I implied above, a 2 carat diamond is expensive!!! Consider that a six prong setting would have less chances of having the diamond "pop out" than a four prong solitaire setting. So in four prongs, which is probably the most sought after design as it is truly a minimalism classic, every ones in a while make sure the prongs are sitting well.
For example, when you wear a sweater the prong may get caught in the sleeve and open up a bit etc. Gold after all is a "soft" metal. Especially 18k compared to 14k.
Here are the most popular designs and their main features, pictures are courtesy of JamesAllen.com (click on the rings to see more examples):
Classic Solitaire Designs
The above rings are as classic as it gets when it comes to solitaire designs. I chose them because:
They are timeless
They fit most diamond shapes in 2 carats
They come in all gold colors, karat as well as platinum
Solitaire Rings with a Twist
If you want to keep the classic touch of a solitaire design but wish to add some personal touch to it, a touch of vintage, milgrain or even a twist if you will (even literally), then these designs are for you:
It is however important to note that these "special" solitaires come with limited options as for the diamond shapes, especially in 2ct. Take the bezel setting for example, that design works with princess cut diamonds as well as rounds though I recommend using it only for rounds. Whereas the infinity ring, even though seems like a more complicated design, actually does work wonderful with princess cuts as well as most other diamond shapes.
2 Carat Solitaire Diamond Ring Price
Now that we've established that most solitaire ring designs average at around $500-$800, "all that's left" in order to get to the full price of a 2 carat solitaire diamond ring is to get the diamond.
At this point it really depends on what you are looking for because two carat diamonds range anywhere from about $6,000-$60,000.
However, when it comes to good value for money and the average expense - an average good quality 2 carat diamond costs $10,000-$15,000 which means the total cost of a 2 carat solitaire diamond ring is about $10,500-$16,000.