Yellow Diamonds Wiki -
All about the Canary Yellow Diamond
Yellow diamonds are natural and yellow diamonds are real and valuable. Here is what there is to know about - The Fancy Canary Yellow Diamond!
Home /

Yellow Diamonds Wiki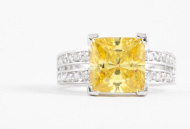 Yellow Diamonds, also known as Canary Yellow Diamonds or simply Canary Diamonds, are the most common form of Colored Diamonds. Within the range of rare colored diamonds, only 1 carat out of every 10,000 carats mined is a natural fancy color diamond, the yellow diamond has gained tremendous popularity because of its beautiful shine and its relatively affordable prices. In fact, they are considered by most the most popular color diamond.
Unfortunately, even with this well earned popularity and demand, the fact remains that most jewelers lack the knowledge of these beautiful gems. Therefore, in this article, we've tried to collect all there is to know about yellow diamonds, all the information you'll need before you start shopping for one.
---
---
What Is a Yellow Diamond?
Colors of white "regular" diamonds are graded from D which is colorless to Z which is a colorless diamond that is already showing a yellowish tint. These tinted colors are often called "Cape Diamonds". But yellow diamonds, diamonds that are considered fancy color diamonds, are the ones that "fall" beyond that color scale. And when the color is pure and strong these diamonds are called "Canaries" or "Canary Diamonds" (which we'll elaborate in further details ahead). The color chart below we'll help understanding: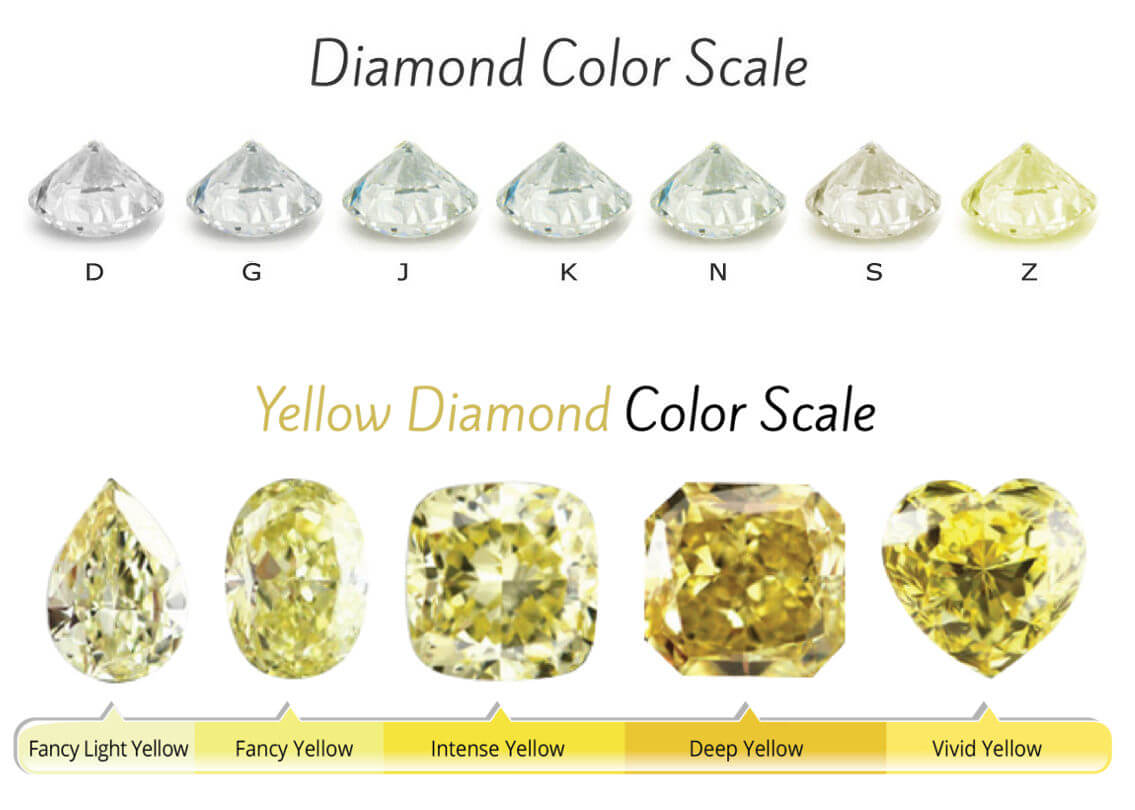 What Are Yellow Diamonds?
While a regular colorless diamond is made of pure carbon, the cause for the yellow color is from traces of nitrogen that attached to it during the formation process. This is why only some of the diamonds are yellow.
It is also the amount of nitrogen that is in the diamond that sets the intensity of the yellow color. A diamond with a higher amount of nitrogen will show a stronger yellow color and will receive a color grade that is higher, for example fancy intense or even fancy vivid.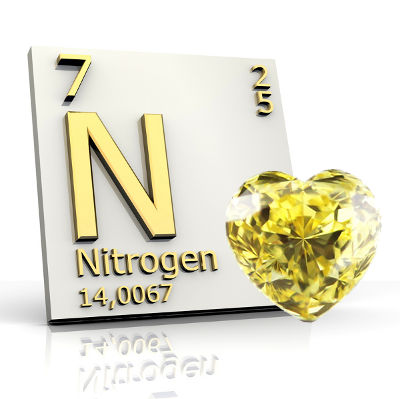 The yellow color in yellow diamonds is caused due to nitrogen molecules
Basic Facts about Fancy Yellow Diamonds
Yellow diamonds are originated all over the world.
Nevertheless, intense yellow diamonds are mostly found in South Africa.
Just like regular colorless diamonds, yellow diamonds come in all cuts and shapes (round, oval, cushion cut, asscher cut, princess cut, etc.) and sizes and even in various color intensities.
The Intensities go from light yellow to fancy light yellow diamond and to the fancy yellow diamonds and all the way to the beautiful, rare and expensive intense yellow diamond and vivid yellow diamond.
Fancy Light Yellow
Fancy Yellow
Fancy Intense Yellow
Fancy Vivid Yellow
How Can You Tell If a Yellow Diamond Is Real?
This question needs to be divided into two smaller questions:
How to tell if the diamond is real?
How to tell if the yellow color is natural?
The best, most accurate and easiest solution for both is to only buy a yellow diamond with a GIA certificate. In the GIA certificate they will authenticate the diamond AND the origin of its color, making sure it didn't get the beautiful canary like color from a treatment made in the lab.
Yellow Diamond Meaning
The meaning of yellow diamonds and yellow diamond rings is derived from the meaning of the yellow color and the symbolism of diamonds and engagement rings.
Yellow as the color of the sun symbolizes hope, happiness, optimism and energy. Add to that the symbolism of diamonds and engagement rings which stand for everlasting love and you literally get a meaningful match made in heaven.
Yellow Diamond or Canary Diamond?
Not all yellow diamonds are canary diamonds!
Yellow diamonds (like other colored diamonds) often come in unique color combination. Colors often seen are brownish yellow diamond, orangy yellow diamond, greenish yellow diamond and more. In general, natural yellow diamonds with secondary hues are worth less than pure yellow diamonds. However, like we like to state about colored diamonds "Never the same" - each diamond is unique.
The name, Canary Diamond or Canary Yellow Diamond refers to pure yellow diamonds with a strong shade - meaning pure intense yellow diamonds. Keep in mind that while almost everyone knows what canary diamond means, the GIA color description would still state fancy yellow in the color description and not canary.
Below you can see samples of colored diamonds, all are Yellow Diamonds by the definition of the GIA: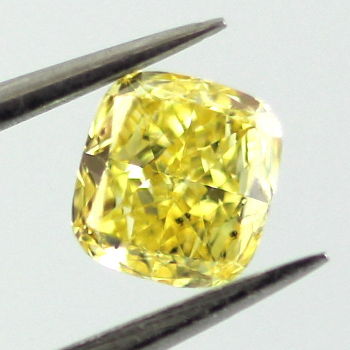 Fancy Vivid Yellow Diamond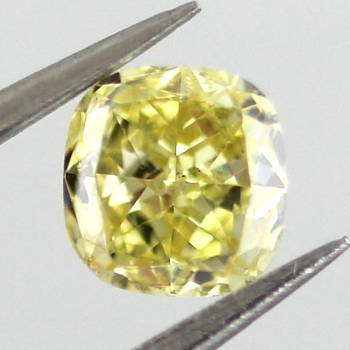 Fancy Intense Yellow Diamond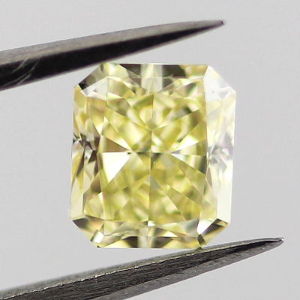 Fancy Yellow Diamond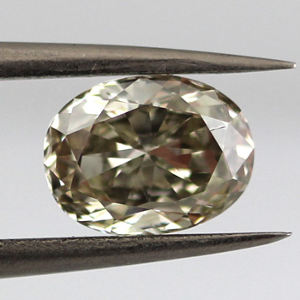 Fancy Gray Greenish Yellow Diamond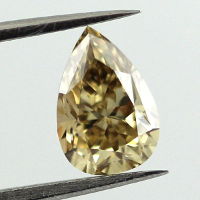 Fancy Brown Yellow Diamond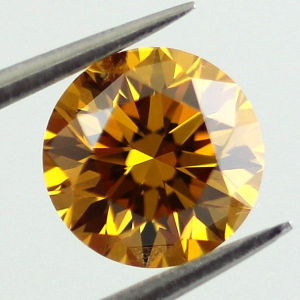 Fancy Deep Orange Yellow Diamond
Yellow Diamond Prices
Yellow diamonds, like all natural colored diamonds, are quite rare. On top of that, yellow diamonds are often found with high clarity grading. Both facts have obvious impact on their pricing. With that in mind, the nice thing about natural Yellow Diamonds is that they are considered relatively affordable when examining the niche of natural colored diamonds.

We will show you a quick view here below but for more accurate pricing you are welcome to view our loose yellow diamonds collection.
A 1 carat radiant fancy yellow diamond with vs2 clarity costs approx. $3,500 while a similar 1 carat diamond with SI1 clarity can cost around $3,000. If you choose to go for stronger color - meaning intense yellow the prices for such diamonds would be 30%-50% higher and if you go for vivid then the prices can easily be even 100%-150% higher than "regular" fancy yellow!
Please note that these are general numbers and at the end, each and every diamond is graded and evaluated based on many parameters - many more than the well known 4 C's of diamonds. For that purpose we've created a very detailed yellow diamonds buying guide which covers yellow diamonds pricing in great details.
Yellow Diamond Rings & Engagement Rings
Due to their the growing popularity of yellow diamonds, more and more brides to be are changing their preference from the classic diamond engagement ring to yellow diamond engagement rings - adding a little touch of NOW to the classics…

The price for yellow diamond rings when buying from the manufacturer should be comprised mainly with the price of the yellow diamond and an additional $500-$1,000 for a basic solitaire ring. If you opt for a more complicated setting, with halo or not to mention melee yellow diamonds then the setting is usually about $1,500-$2,500.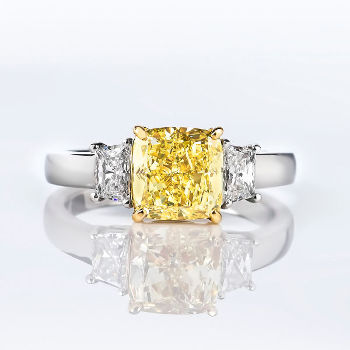 Fancy Yellow Diamond Ring, 2.82 cttw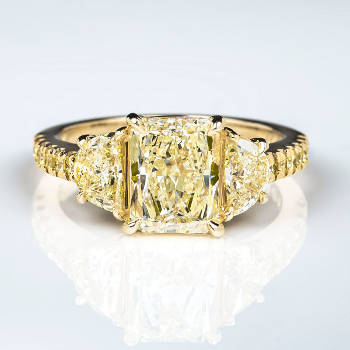 Fancy Light Yellow Diamond Ring, 2.94 cttw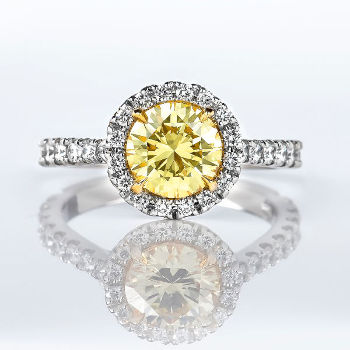 Fancy Intense Yellow Diamond Ring, 2.14 cttw
The above are just three examples of the many types of rings you can design. But I do want you to notice that when writing the weight, I wrote cttw and not ct or cts. cttw meaning is Carat Total Weight. It is very different than carat weight because it means that all of the diamonds in the ring combined are weighing what is written. Take a look at the third ring with the round intense yellow diamond... This ring is roughly $30k. But while the total weight of the diamonds is 2.14 carats, the center diamond is under 1.50 carats and the rest of the weight comes from small diamonds costing less than $1,000 per carat. If it was a 2 carat center diamond then the price would have been much higher.
Yellow Diamonds as an Investment
Due to the financial crisis of 2008 when the markets collapsed people started investing in gold and lately we encounter more and more people who wish to invest in diamonds. When you think about it, it actually makes lots of sense. Unlike with gold, you can use your diamonds and enjoy them. It is nice to know that the yellow diamond engagement ring you bought your wife has a good potential for a price increase over the years. It is something that can be passed to the children. The color of yellow diamonds doesn't fade over time and they do not require special attention of any sort. But the question comes which yellow diamonds will be worth buying as an investment…?

Yellow diamonds are relatively more common in the niche of colored diamonds. This is why we recommend buying something which is a bit more unique. Fancy Intense Yellow Diamonds and Fancy vivid Yellow diamonds seem to be a good choice. From our experience, diamond investors and diamond collectors usually go for intense yellow diamonds.

Below you can see a sample of a classic Intense Yellow Diamond, a Canary Diamond


Yellow Diamonds Buying Guide
We wrote a very detailed buying guide that addresses specifically the problems and dangers of buying canary yellow diamonds. However, if you had made it this far here is a shortage of the article in a 5 minutes video. Some of the info I did cover above but I believe if your heart is set on a yellow diamond - it will be worth watching:
Click here to read the full yellow diamond buying guide
Famous Yellow Diamond - The Incomparable
The most famous yellow diamond is The incomparable. The incomparable is a Brownish Yellow Diamond and it weighs 407.49 carats. Its carat weight has earned it the title of the third largest diamond in the world as well as an honorary place in our most expensive diamonds list.
Celebrities and Their Yellow Diamond Rings
Yellow diamond rings and celebrities are a little like the chicken and the egg. At this point, it is hard to say if the demand for these gorgeous rings had risen because celebrities started wearing them or they started wearing them because the demand and desire had increased. Either way, the result is the same - there are quite a few notorious rings that we had noticed during the course of the last few years...
Probably the most famous is the yellow diamond engagement ring Paris Hilton received from billionaire Paris Lastis. There is very little known about the ring but the buzz around the web is that it is worth about $5 million dollars.
Hillary Clinton was seen wearing a 4.23 carat yellow diamond ring in on various occasions.
Jennifer Lopez, who also decorated our article about pink diamonds for the ring she had gotten from Ben Affleck, received a vintage style 8 carat canary diamond ring from Marc Anthony. According to online reports ring was estimated at $300,000.
Colin Jost proposed Scarlett Johansson in May of 2019 with a yellow diamond engagement ring estimated at $450,000
Kelly Clarkson, American Idol winner, got from her now husband - Brandon Blackstock a 5 carat canary diamond ring.
And it's not only rings... Whoopi Goldberg wore an 80 carat canary yellow diamond pendant - worth about 5 Million Dollars,
Yellow Diamonds on the Red Carpet
Both Academy award winners, Natalie Portman and Kate Winslet wore yellow diamonds in the academy awards.
Natalie Portman was seen wearing amazing yellow diamond earrings.
Academy award winner beautiful Kate Winslet had the entire set - a $2.5M yellow diamond necklace along with a 10 carats fancy intense yellow earrings and yellow diamonds bracelets.