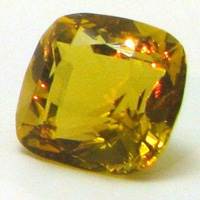 Tiffany Yellow Diamond image
is courtesy of
Wikipedia
The Tiffany Diamond was discovered in South Africa during 1878. Back then, it was the biggest yellow diamond that was ever found. It's weight in its rough form was 287.42 carats.
The Purchasing of the Tiffany Diamond
The diamond was purchased by the known American jeweler Charles Tiffany and was set in the piece called the Bird on the Rock. The Tiffany diamond is displayed in Tiffany's main store in New York. However, every once in a while it is lent out for shows and exhibitions.
The Tiffany Diamond Polishing Process
The craft of polishing the Tiffany Yellow Diamond was handed to a young gemologist (23 years old at the time) named George Frederick Kunz that has studied and examined it for over a year prior to polishing it. Kunz added 32 facets to the traditional cushion cut polish, a fact that brings this diamond's facets number to 90. The Tiffany diamond's polished weight is 128.54 carat - over 25 Gr. An interesting fact about the tiffany yellow is that it was never graded by a gemological institute. This is why it is often referred as a canary yellow which is a non-official color description which is often used to describe yellow diamonds with strong and pure yellow color saturation.
Breakfast at Tiffany's
In 1961, in order to promote the film breakfast at Tiffany's, Jean Schlumberger designed the famous necklace that was worn by Audrey Hepburn. A movie that produced priceless PR to the Tiffany company. Some even say that this movie is what made them who they are today.

In 1995, Jean Schlumberger has done it again designing the magnificent Bird on a rock. This rare and priceless piece of jewelry has been on display in Tiffany's flagship store in New York, attracting visitors from all over the world.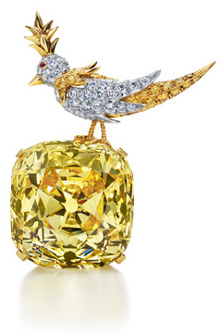 the Bird on a Rock Photo courtesy of the Smithsonian Institution
Now, after being mounted for 17 years in the Bird on a rock, Tiffany is doing it again and mounting the tiffany yellow diamond onto a new breathtaking necklace designed to show off its brilliance and color. The new necklace was made to celebrate Tiffany's 175th anniversary – what better way to do so than with one of the most beautiful and famous diamonds ever unearthed.